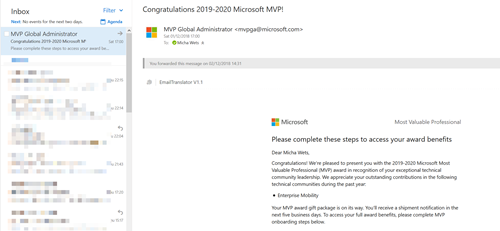 Honored to receive my first Microsoft MVP Award
Simply said: it has been really crazy the last 2 years…
I had the chance to speak at several conferences about Windows Virtual Desktop (WVD, previously Remote Desktop modern infrastructure or RDmi), I met so many fantastic MVPs at these conferences that I admire, I got to know many people inside Microsoft Product teams and work with them (just to name a few: Clark, Eva, Christian, David, Pavithra, Roop, Loay, Bart and many more). Absolutely crazy! But so amazing and so inspiring.
I started to use Twitter more and more, I started to write blogposts, I'm helping the MS Product teams, I'm creating scripts and modules for the community, and best part still has to come: I enjoy it more and more every day 😃
I was having a romantic Saturday with my wife (the kids were at my parents for a day 😉 ), we went shopping & enjoy each-others company for the day, and we would finish it with a great dinner in a local restaurant. And then it happened, near the end of the shopping day, I received an email with the best title you can hope for: Congratulations 2019-2020 Microsoft MVP!
Lets say that the dinner was an excellent moment to celebrate this and it made our day even better.
I want to thank all the people at the MS Product teams that I get to work with, all the MVPs (Freek, Eric, Tom, Maarten, …) who gave me great advice and showed me how they work, but also for the great talks, all the people I have met these last couple of years and helped me get to this point, but also ASPEX to give me opportunity to grow more into Azure, RDS and WVD : THANK YOU.
Last but not least, I want to thank my wife and kids. They supported me throughout these last years, even when it was really busy for us😘!
I'm very honored to receive this MVP Award, to be part of this amazing group of people and to continue to work with all of you.
THANK YOU