Windows Virtual Desktop Workshop December update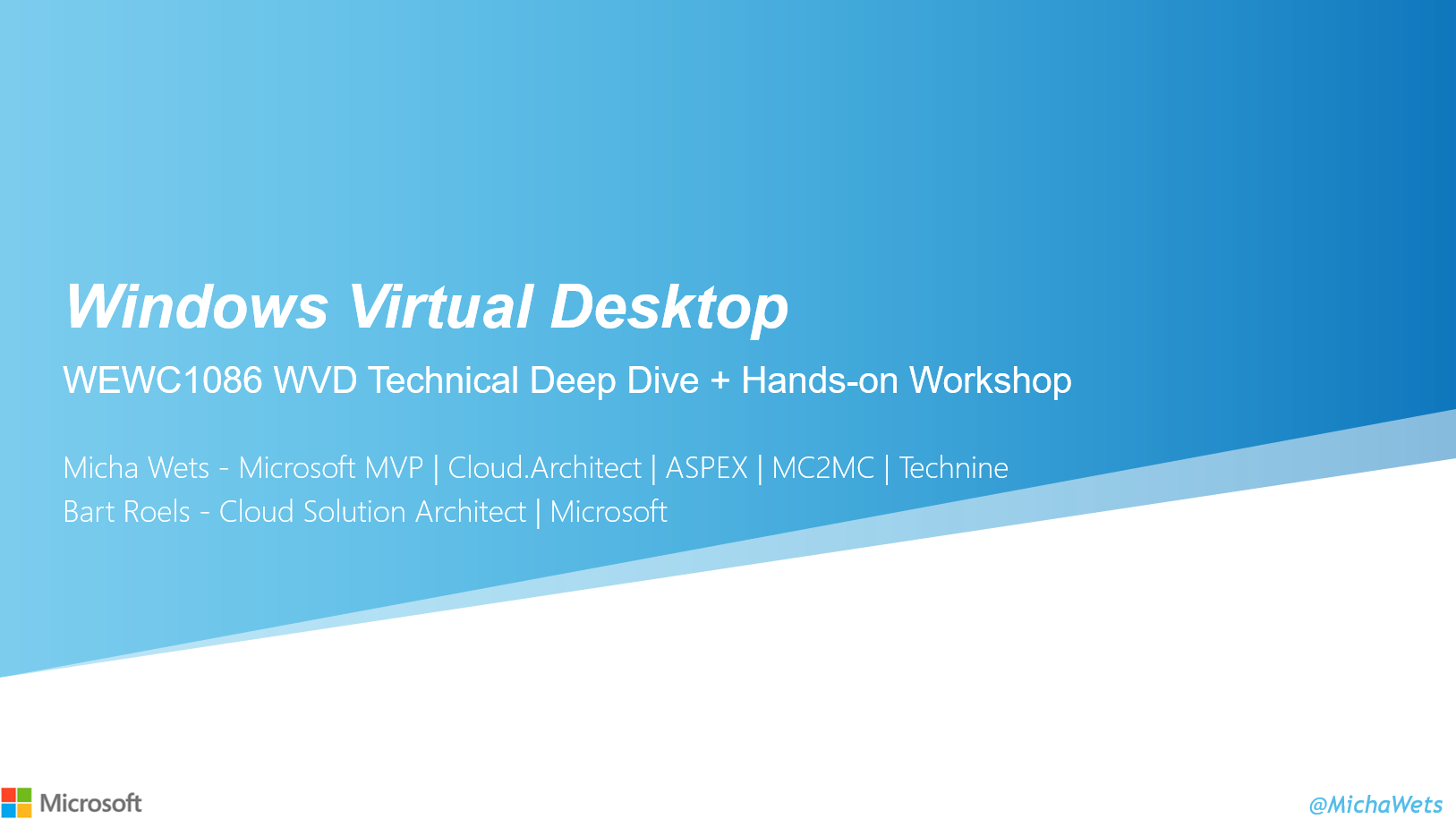 Introduction
At the beginning of December, Bart Roels and I hosted a one-day workshop update on our Technical Deep Dive about the Windows Virtual Desktop Spring 2020 edition for all West-Europe partners from Microsoft. We started the day with a Presentation about all the changes and upcoming features for WVD. In the afternoon, we hosted the updated Hands-on Labs.
Presentation content
During the presentation, we touched & demo-ed this topics:
MSIX app attach using the Azure Portal (detailed explanation)
Azure Image Builder
Start VM on Connect
Microsoft Endpoint Manager
HTML5 microphone redirection
Azure Monitor for WVD (WVD insights)
Screen capture protection
RDS Shortpath
other updates
Hands-on labs updates
These were the updates in the labs:
Updated PreRequisite Tasks: DNS, Powershell core, Azure NetApp
How to Connect: add multiple accounts to the WVD Client
Create a custom image using Azure Image Builder
Use an external image (build by myself)
Updated the creation of WVD using the Azure portal & ARM Template
Updated the configuration of WVD using the Azure portal & Powershell cmdlets
Create and use Azure NetApp files as the File Service for FSLogix
The idea
Bart and I made the decision to make the entire Workshop available online (again 😊), to everybody and to make it open-source!
This way, you can do it yourself, at your own pace, at the office with your co-workers.
But more importantly, you can also contribute! You can make changes, add topics or idea's so I (or the community) can make those manuals.
The workshop
You can find the entire workshop, with slides, video, links, tasks, everything, right over here:
👉🏻👉🏻aka.ms/WVDWorkshop
As you can see, Bart made an aka.ms shortlink, to make it even more easy for you to find it.

The source code
The page is a generated GitHub Page, and you can find the sourcecode here: github.com/michawets/CA-Microsoft-WVD_ARM-Workshop
If you have great idea's, things you want to add, change, anything, let me know.
Create a fork, do your changes and create a Pull Request. This way, you help to make this workshop better for all.
Comments
We hope this helps! Please leave a comment below if you have questions or remarks.